Fashion shows set trends, we follow, but fashionistas...hmmm..well, they do their own interpretation and that is why we love them.
The Scarf Belt
The Cuffed Pants.
The Layers. The belt.
Haute Muslimah
She made her version of a collar with a white flower pin. The Globes.
Haute Hijabi87
We love how Hijab Revival added the tassels to accessorize her bag.
Hijab Revival
Two? YES.
All You Need Is Luff
The Collar. The Mix of Denim.
LabellaIman
Collar?
Sketches of my mind
Working a caftan differently.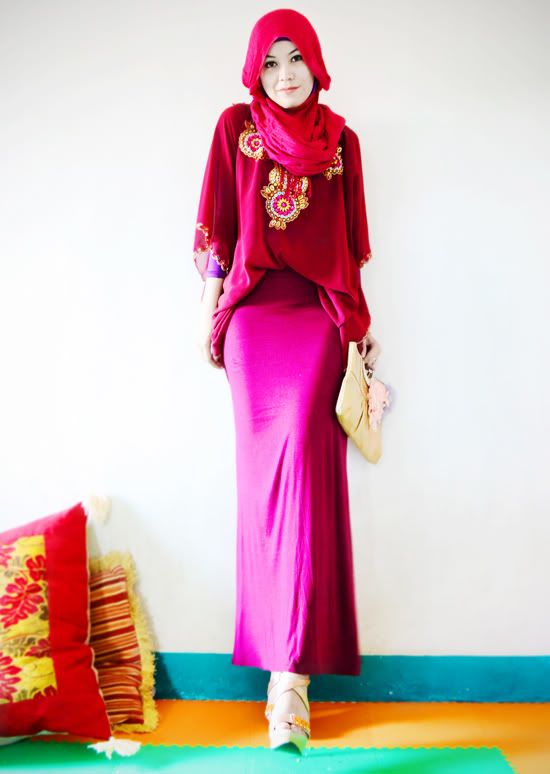 Combining textures and styles.
StyleCovered
The Bow
Basma K. Style
All photos are credit to their corresponding blogs and pages.
DISCLAIMER: This is just a sweet reminder that in Islam there is a proper way of dressing in front of Mahrams, non-mahrams and husband. For our mahrams our minimum coverage is from the navel below to covering the knees. We shouldn't also show our back, shape of our breast, butt and thighs through tight clothing and maintain a high level of modesty around them too, but we show our hair, arms, the lower part from the knees down of our legs. For the husband, there are no guidelines of covering. We can show everything, nothing and wear what ever:-) This does not include the differences of opinion on covering the face, hands, feets, on wearing trousers, heels, make-up and jewelry. Allah Knows Best.
The above styles should be apply where applicable and it is the full responsibility of every muslimah to educate herself and know infront of whom to wear what:-)